Follow this guide and learn how to watch the Indy 500 2023 live stream online from anywhere, including Indianapolis 500 date, Schedule, TV Coverage, winners and more info.
The 107th running of the Greatest Spectacle in Racing "Indy 500" will be held May 28, 2023 at Indianapolis Motor Speedway. This year's Indy 500 event will be more exciting. There are a lot of things going on in the 2023 Indy 500.
Indianapolis Motor Speedway is an automobile racing circuit located in Speedway, Indiana, in the US. It is the host of the Indy 500 and the Brickyard 400. It was once the United States Grand Prix host too.
If you don't attend the venue. You can enjoy the Indy 500 live stream online on any device and from anywhere or watch race day live on your TV. If you are one of them, read out our complete guide.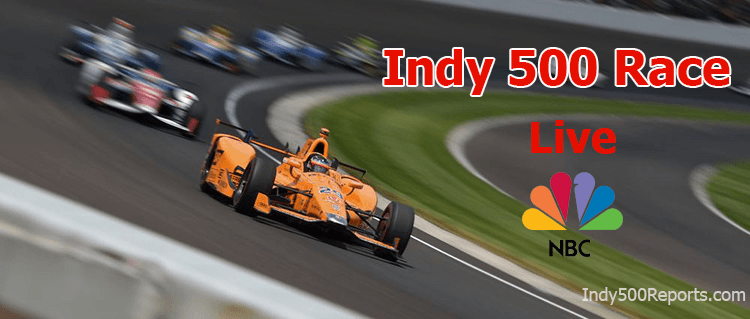 | | |
| --- | --- |
| Race Day | Sunday, May 28, 2023 |
| Start time | 12:45 p.m. ET |
| Location | Indianapolis Motor Speedway |
| Presented by | Gainbridge |
| Pace car | Chevrolet Corvette (C8) |
| TV Channel | NBC |
| Live Stream | Watch Online Free HD |
When and where is the Indy 500 2023?
The 107th Indianapolis 500 will take place on Sunday, May 28, 2023, at the Indianapolis Motor Speedway in Speedway, Indiana. It will be held on Memorial Day weekend and presented by Gainbridge. This event is significant as it will be the premier event of the 2023 IndyCar Series. It will be a 500-mile, 200-lap event
Which channel will telecast the Indy 500?
NBC is the official broadcaster of the 2023 Indy 500. The 107th Indy 500 live event will be available through the official NBC channel, Peacock, and Universo (beginning at 11:00 a.m. ET and running through 4 p.m. ET).
If you already have a subscription to NBC, you don't need to hesitate to tune in to your NBC channel to watch the Indy 500 live. If not, contact your current TV provider about NBC.
Indy 500 Race Practice and qualifying will be shown on NBC and Peacock. You can enjoy the Indy 500 Parade on Peacock.
Viewers can stream the content through Peacock, the NBC Sports App, and NBCSports.com. You can also access the service through the official site of the Indianapolis Motor Speedway live stream.
Indy 500 TV Schedule (Raceday)
Here is the Indianapolis 500 race day TV schedule. To follow the complete schedule, check here:
| Events | TV/Platform(s) | Time (ET) |
| --- | --- | --- |
| Indy 500 Pre-Race | Peacock | 9-11 a.m. |
| Indy 500 Pre-Race | NBC, Peacock, Universo | 11 a.m.-12:30 p.m. |
| 107th Running of the Indianapolis 500 | NBC, Peacock, Universo | 12:30-4 p.m. |
How to live stream Indy 500 2023 outside your country?
Scroll down below to get Indianapolis 500 streaming options from different countries. But now, if you're outside your home country and attempt to stream the Indy 500 through your regular broadcaster, you may encounter geo-blocking restrictions preventing access.
Don't worry. There's a workaround! By downloading and installing a Virtual Private Network (VPN), you can convince your device that it's back home, allowing you to enjoy your usual coverage regardless of location. Before proceeding, do make sure to read all the fine print to ensure you're abiding by the terms and conditions.
Use a VPN to Watch the Indy 500 Race from Anywhere
After thoroughly testing the leading VPNs, we've concluded that ExpressVPN tops the list due to its impressive speed, user-friendly interface, and robust security features. Moreover, it's compatible with nearly every streaming device on the market, including Amazon Fire TV Stick, Apple TV, Xbox, PlayStation, Android and Apple mobile devices, making it incredibly easy to use.
Sign up for an annual plan now and receive an extra three months FREE. Should you change your mind within the first 30 days, let them know, and they'll promptly refund your money, no questions asked.
Try ExpressVPN (100% risk free for 30 days)
Ways to watch Indy 500 2023 Live Stream in the US?
Fans in the USA can watch the Indy 500 live on NBC, Peacock Premium, and Universo. The main race will be held on Sunday, May 28, with live streams starting at 11 a.m. ET / 8 a.m. PT. Comprehensive race coverage will commence from 12:30 p.m. ET / 9:30 a.m. PT.
Follow the guide below to watch the Indy 500 live race using cable/satellite package credentials, without cable, or with an antenna TV.
How to Watch the Indy 500 Race live online on NBC?
If you already have cable or satellite subscriptions but prefer to watch Indy 500 2023 live stream through other devices, consider using the NBC Sports live streaming website or the IMS service. NBC's official site offers you a free live streaming service.
You must log in through your cable or satellite credentials to remove the video restriction. You could also borrow the credentials from your friends.
To use the NBC Sports site, you could navigate the website through your browser. In seconds, you will load the player in the browser and activate it as soon as the event goes live.
Navigate the NBC Sports Live site on the match day. You need a cable or satellite subscription before proceeding. Click "VERIFY NOW" to grant full access to the coverage. Select your cable or satellite provider. The preview limit will then go away.
How to Watch Indy 500 Live Online without cable?
If you are the cord cutter, you also have plenty of options to watch the Indy 500 from your favorite devices. You will have two options: waiting for it over the air or using a reliable live streaming service online.
Here we list the Top rated Live TV streaming services you can consider using to watch the Indy 500 live online event this year.
FuboTV
FuboTV is a popular choice among avid sports fans for live TV streaming services. It offers a range of major channels such as Fox Sports, NBA TV, the NFL Network, ABC Sports, and ESPN. Importantly for Indy 500 fans, FuboTV carries NBC, allowing you to enjoy live race coverage and qualifying sessions from the Indianapolis Motor Speedway.
In addition, FuboTV provides live TV streaming from networks like A&E, BBC America, Discovery, USA Network, and local news channels. Packages cost $74.99 monthly, offering over 120 channels, 1000 hours of DVR storage, and 10 simultaneous streams.
FuboTV offers a 7-day free trial for those unsure about committing, allowing you to stream the 2023 INDYCAR series Indy 500.
Sling TV
Sling TV provides three packages: Sling Orange with 31 channels for $40 per month, Sling Blue with 41 channels for $45 per month, and Sling Orange + Blue with 47 channels for $60 per month. Sling Orange is sports-focused, while Sling Blue offers more news and entertainment.
To access NBC for the Indianapolis 500 on race day, you'll need either a Sling Blue or Sling Orange + Blue subscription. Although there's no current free trial, Sling TV offers 50% off your first month with any plan.
Hulu + Live TV
Hulu + Live TV is another excellent choice for streaming the Indianapolis 500. It combines Hulu's vast on-demand library with dozens of live TV channels. The service includes ESPN, news networks, and NBC, ensuring you won't miss a moment of the Indy 500 on your favorite devices.
Hulu + Live TV also comes with the standard Hulu service, offering over 40,000 episodes of TV and 2,500 on-demand movies. You can also bundle this service with Disney+ and ESPN+.
DirecTV Stream
Subscribing to DirecTV Stream is another way to catch the Indy 500 race. Like other services on our list, DirecTV Stream provides access to NBC, allowing subscribers to watch the entire Indianapolis 500 event.
DirecTV also offers more than 160 channels, ensuring you'll always have something to watch. From live sporting events to news, drama, reality shows, comedies, and music, there's a wide range of content for the whole family.
An additional perk of DirecTV Stream is its DVR, which offers unlimited storage hours. You can record the entire Indy 500 to watch and re-watch later if you miss it the first time.
YouTube TV
If you are familiar with the YouTube platform, you can't go wrong with the YouTube TV subscription. YouTube TV costs $72.99 monthly, including NBC Sports in the package. Thanks to its fantastic offer, you can watch Indy 500 stream free from your favorite devices.
YouTube also has the features that other live streaming services have. For instance, you can use up to six Google accounts for one service. But you can only stream simultaneously on up to three devices. YouTube offers NBC in select markets. So, you will want to test it first to determine whether your location is valid.
Peacock
Peacock, a streaming service created by NBCUniversal, offers three subscription plans: Free, Premium ($4.99 per month), and Premium Plus ($9.99 per month for ad-free content), with each offering over 50 live channels. However, you'll need a Premium or Premium Plus subscription for live sports streaming, including the INDYCAR series.
With the Premium and Premium Plus plans, you'll gain access to every INDYCAR race on-demand, as well as live practice and qualifying sessions. Additionally, you'll find hundreds of hit movies and shows, plus other live sports like Premier League, cycling, men's and women's golf, lacrosse, rugby, and pro motor.
Also Check:
Watch the Indy 500 Race Live with an Antenna
Watching the Indy 500 race live with an antenna is feasible if you don't have a cable or satellite subscription. The race is traditionally broadcast on NBC in the United States, so you need an antenna to pick up this network. Here are the steps you can follow: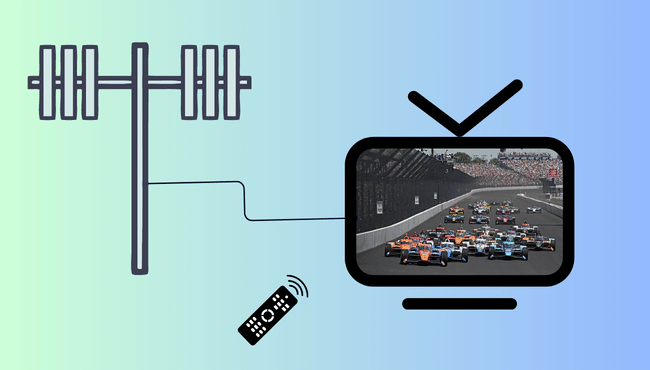 Purchase an Antenna: Depending on your location and the signal strength, you may need an indoor or outdoor antenna. If you live close to a city, an indoor antenna might suffice. If you live in a more rural area, an outdoor antenna might be necessary to get a clear signal.
Set Up Your Antenna: After getting your antenna, you must set it up. Connect it to your TV and place it where it can receive the best signal. This could be near a window or, in some cases. You might need to mount it on a wall or outside. After placing it, you should scan for channels on your TV to ensure you can receive the NBC signal.
Tune In to NBC: The Indy 500 is traditionally broadcast on NBC. Once your antenna is set up and you've confirmed you can receive the NBC signal, all you need to do is tune in to NBC when the race is scheduled to start.
As always, broadcast rights can change and vary by region, so it's always a good idea to check the current year's Indy 500 broadcast information to ensure you can access the race through your local NBC station.
How to Indy 500 Live Stream from the UK?
For the viewers who live or travel in the UK, you can catch 2023 Indy 500 on Sky Sports Action, with live coverage kicking off at 3:45 pm BST, leading up to the main race at 5:45 pm.
For on-the-go viewing, Sky subscribers can utilize the Sky Go app. Compatible with almost all contemporary phones, tablets, laptops, PCs, and consoles, the app ensures you won't miss a moment of the action.
If you don't have Sky, don't worry. Opting for a Now Sky Sports Monthly membership is a solid alternative. It offers access to all 11 channels, ensuring comprehensive coverage of your favourite sports.
Where to Indianapolis 500 Live online in Canada?
Canadian fans can watch the Indy 500 on Sportsnet. Coverage revs up at 11 am ET / 8 am PT, setting the stage for the main event at 12:45 pm ET / 9:45 am PT.
But what if you've cut the cord? No problem at all! Sportsnet Now is your go-to solution. It only costs $14.99 a month. If you plan to stick around for a long time, you can get a yearly subscription for $149.99 with the SN NOW Standard Plan.
And don't worry if you're not in Canada when the race is on. You can stream the Indy 500 live from anywhere using a VPN!
How to Stream Indianapolis 500 Live from Spain?
Fans of Indycar in Spain and Andorra can catch the live broadcast of the Indy 500 race on Movistar's dedicated sports channel, Vamos, on the 28th of May. Movistar+, a pay-TV platform owned by Telefónica in Spain, has successfully acquired exclusive media rights.
The subscription-based network plans to broadcast all races from the upcoming championship on Movistar's Deportes channel.
How to watch Indy 500 race in Germany?
DAZN is an excellent live streaming service providing many sports content since 2016. In Germany, most internet users use DAZN to watch their favourite shows. If you live or travel in Germany, consider subscribing to DAZN.
Can I watch Indianapolis 500 live online in the Netherlands?
Some folks prefer to use DAZN because of service quality. But you can also use the Ziggo live streaming service. With this one, you don't need to use other services and spend expenses for VPN service. Just access Ziggo from the Netherlands, and you will be fine.
Everything you need to know about the 2023 Indy 500
Here is the complete information about the Indy 500 you need to know before watching the Indycar live stream.
How many drivers take part in the Indianapolis 500?
The Indianapolis 500 traditionally features a starting grid of 33 drivers. These drivers earn their spots through a series of qualifying runs. It's an incredibly competitive process as drivers worldwide vie for the chance to race in this prestigious event.
How many laps are in the Indianapolis 500?
The race consists of 200 laps around the 2.5-mile oval track, totalling 500 miles—hence the name, Indianapolis 500.
Who won the last Indianapolis 500?
Marcus Ericsson won the 106th Indianapolis 500
How can I get tickets for the Indianapolis 500?
Tickets can be purchased from the official Indianapolis Motor Speedway website or from authorized ticket vendors. Be sure to book early, as the event often sells out.
What makes the Indianapolis 500 special?
The Indianapolis 500 is often called "The Greatest Spectacle in Racing" due to its long history, the size of the crowd it draws, the impressive prizes, and the high-speed thrills. Winning the Indy 500 is considered a crowning achievement in motor racing.
Why does the Indy 500 winner drink milk?
This unique tradition dates back to 1936 when winner Louis Meyer requested a glass of buttermilk after his victory. An executive from the Milk Foundation saw a photo of the moment and vowed to make it a tradition. Now, drivers are asked their milk preference (whole, 2%, or skim) before the race, and the winner celebrates their victory by drinking milk in the Winner's Circle.
What is the Indy 500 Festival?
The Indy 500 Festival is a month-long celebration that precedes the annual Indianapolis 500 race. The festival encompasses numerous events that unite the community in anticipation of the big race. These events include the Mini-Marathon, the IPL 500 Festival Parade, Kids' Day, a memorial service, and various community and educational programs. The festival serves as a fantastic lead-up to the main event, allowing fans and community members to immerse themselves in the culture and excitement of the Indy 500.
There you have it! We have compiled the information just for you. Which live-streaming option would you like to choose? Hit us in the comment box below.